Hi, I am new at this and have very little knowledge about computer... I was wondering if any1 could help me ... I have been trying to install IE7 for quite some time now .... but after everything it says." Setup was unable to install the latest Windows Internet Explorer updates. After you restart your computer, open Internet Explorer, click the tools button, and click Windows Update."... I would love to do that , the thing is that there is no Tools button!!! .... you see, after the installation only features my IE7 has is the address bar, the refresh button, the stop button and the Live Search bar.... thats it!!! ...there are no other features or buttons in my IE7 .... even the upload,"save target as" and the delete option dont work...... I have followed all the steps for the installation, and whatever solutions microsoft site suggests ... but nothing worked ........ can any1 help me and tell me what I am doing wrong?... Windows version is WinXP SP2 .....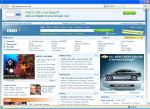 ... I have attached a scrrenshot of what my IE7 looks like ...
Edited by the innocent fool, 25 January 2008 - 01:20 AM.