Firefox website shortcut icons on my desktop now look like the first choice one sees when right clicking a shortcut icon , then left clicking "properties", and then clicking " change icon" -- they should look like a white square with the firefox logo in the center instead of a white square with a little box containing 3 tiny symbols. Here is a screenshot that shows what I'm describing above.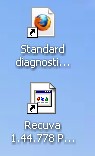 I'm running XP Pro SP3 and Firefox 17 How do I restore the original appearance? Thanks in advance for all help.
Edited by barebear, 25 November 2012 - 02:09 AM.