First – I like Firefox
Second – I don't like IE
Third – can't explain why
but
IE v.8 has better memory performance than Firefox v.3.6.
Demonstration: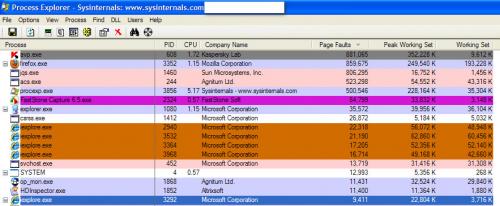 This is a simple test
IE8 vs Firefox
on my XPSP3 with same conditions (browsing the same 5 web sites).
Process explorer
clearly shows that is the amount of used actual physical memory (RAM), almost the same (200Mb), but Firefox has average
860,000 Page faults/s vs 90,000
that has IE8.
Page fault, Virtual Memory Manager
and
Paging
definition in
Microsoft Detecting Memory Bottlenecks
:
A
Page fault
occurs when a program requests a page of code or data is not in its working set (the set of pages visible to the program in physical memory).
• A hard page fault occurs when the requested page must be retrieved from disk.
• A soft page fault occurs when then the requested page is found elsewhere in physical memory.
Soft page faults can be satisfied quickly and relatively easily by the Virtual Memory Manager, but hard faults cause paging, which can degrade performance.
The
Virtual Memory Manager
moves pages of code and data between disk and memory in a process called paging.
Paging
is essential to a virtual memory system, although excessive paging can monopolize processors and disks.
Conclusion
: I will use Firefox after all, because I have 3,144924Gb RAM, but if you have evident problem with slow computer when play your favorite game or edit picture with Photoshop, don't forget to turn Firefox off.
arTech
Edited by arTech, 15 September 2010 - 01:57 PM.