Fake app attack: Misleading Application File Download 3
Windows 7, 64- bit,
Events in order-
- 12/30 first ever Blue Screen of Death, I let my laptop sit for about 20 min. and returned to find it restarted. (Since then I've let it sit for about 20 min. 3 times and the laptop freezes completley. I have to hold the power button and start it again. Why is this happening fellas?
- 12/31 opened updated Firefox, was browsing youtubez for about 6 min. when it first closed automatically. Norton pop-up said intrusion attempt BLOCKED. Tried re-opening Firefox about 6 more times, same thing happened.
- 1/1 disk cleanup, Norton Anti-Virus full system scan( nothing detected), Norton eraser tool(nothing was found). Tried using Firefox's own safe mode, crashed. Disk defrag (everything was fine).
- I am able to use everything just fine, only when I use Firefox, it crashes.
- 1/2 Did a NAV full system scan in safe mode (nothing detected), Installed Google Chrome, un-installed Firefox. Opened Up chrome, crashed with the sameNorton pop-up.
What should I do next? I've heard some fellas did a system restore? I'm not sure at all, hopefully we can solve this, I'm sure there are others trying to figure this one out!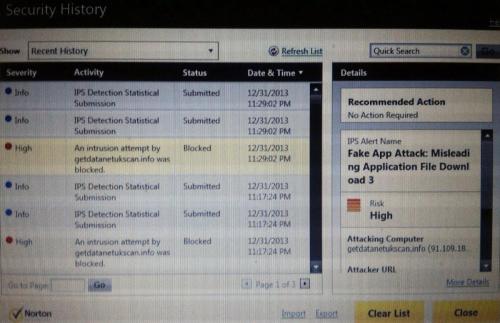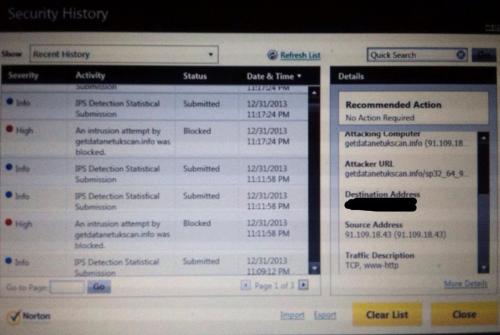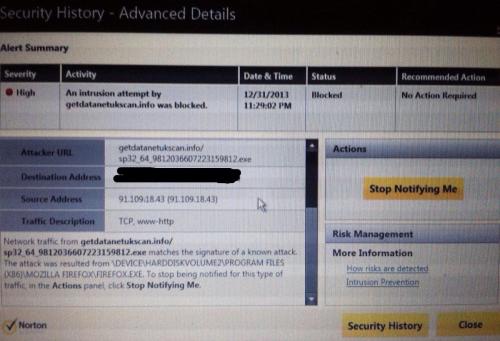 Edited by uchiha808, 03 January 2014 - 12:55 AM.