Hardware Made Easy
HOWTO: Test your computer's physical memory for problems.
Using the Windows Memory Diagnostic
This tutorial will teach you how to use the freely provided
Windows Memory Diagnostic
utility to test your computer's physical memory for problems that could be causing you issues.
If you are experiencing problems such as lock ups, blue screens, weird video anomalies, or reboots, one of your problems could be your RAM. Ram will usually never go bad although it can happen. NEW memory can be bad out of the box and should always be tested before using it in your system. Older systems often times will get bad connections at the memory slots which will cause the same issues that bad memory will. Because it is such an easy test, it is always recommended that you eliminate the possibilty of RAM problems before spending time troubleshooting problems. Once you create the
Windows Memory Diagnostic
boot disk you can use it again and again, on any system, to make sure your systems run smoothly and reliably.
NOTE: You will need a floppy drive, or CD burner to create the bootable memory diagnostic disc. The software listed below will work on all versions of Windows from 95 on up although the exact steps may vary slightly.
NOTE: Windows Memory Diagnostic is a 32-bit program that will not read more than 4 gigs of RAM. It will work on systems with more than 4 gigs of RAM, but the RAM will not be fully tested.
Ok, lets get started!
Step 1:
Download the Windows Memory Diagnostic from Microsoft.
To learn more about the Windows Memory Diagnostic, click HERE
Step 2a:
Creating a bootable Floppy Disc.
You will need to have a blank floppy disc ready.
Step 2b:
Creating a bootable CD-Rom Disc.
You will need to have a blank CD-R disc ready.
Step 3:
Testing your system's memory.
Well, that's all there is to downloading the Windows Memory Diagnostic and creating the necessary bootable media. Now comes the fun part. Testing your RAM. In order to start the
Windows Memory Diagnostic
you will have to boot the floppy or CD that you just created on your computer. All computers have the capability to boot from CD or Floppy. However, you may need to tell your computer to boot from a floppy or CD instead of your internal hard drive. The method for doing so varies from manufacturer to manufacturer. Many computers will automatically boot from a CD just by inserting the disc in the drive and rebooting your computer. If your computer does not boot the Windows Memory Diagnostic then you may need to press a special key immediately after your computer is turned on. It will often say,
Press F10 for boot menu
. Or,
Press F2 to select boot device
. You may also modify your BIOS settings to change the boot order permanently so that your computer will always be ready to boot from CD-Rom if a disc is inserted. If you are having trouble booting from a floppy or CD-Rom disc, I suggest you read the manual for your computer that should be listed at the manufacturer's website.
Once you get the Windows Memory Diagnostic started, it will look like this: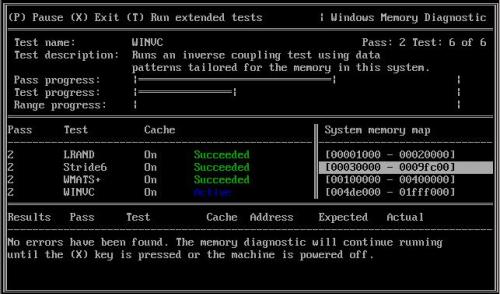 Let the test run through several passes in order to ensure that you are not having any memory issues with your computer. Several hours to overnight is recommended for stress testing. There should be NO errors found. If any errors are found they will be displayed at the bottom of the memory test window. Any errors at all will have to be corrected or you WILL have problems with your computer.
Making the most out of the Windows Memory Diagnostic:
Warning: Damage caused by improper handling of your computer components will void the warranty. If there are any questions about warranty on your computer please contact a qualified technician or the manufacturer before proceeding. Always be sure to unplug the power cord before servicing your computer. This is for your own safety, as well as, for the protection of your computer. Electrical devices are static sensitive. Necessary precautions should be taken to ensure that you ground yourself and eliminate any static build up. It is generally accepted that touching any large metal objects, such as your computer's case, will sufficiently discharge any static build up prior to working on your computer. You may want to invest in a grounding wrist strap to continually discharge any static build up.
Edited by appleoddity, 19 June 2009 - 02:37 PM.