[Resolved] can't connect to anti-virus url
Started by
ciacia
,
Nov 19 2009 10:19 PM
This topic is locked
Posted 21 November 2009 - 02:37 AM
Hi, Kindly refer to attached. thanks
---
Posted 21 November 2009 - 05:33 AM
Hi,
The items found by Kaspersky are in old restore points which we will be cleaning up shortly.
Your logs are clean, just some housekeeping to do now.
Please do the following:
Visit
ADOBE
and download the latest version of Acrobat Reader (version 9.2)
Having the latest updates ensures there are no security vulnerabilities in your system.

NEXT
Your Java is out of date.
Older versions have vulnerabilities that malware can use to infect your system.
Please follow these steps to remove older version Java components and update.
Download the latest version of

Java Runtime Environment (JRE) 6

and save it to your desktop.

Scroll down to where it says "Java SE Runtime Environment (JRE) 6 Update 17. The Java SE Runtime Environment (JRE) allows end-users to run Java applications."
Click the "Download" button to the right.
Select the Windows platform from the dropdown menu.
Read the License Agreement and then check the box that says: " I agree to the Java SE Runtime Environment 6 with JavaFX License Agreement". Click on Continue.The page will refresh.
Click on the link to download Windows Offline Installation and save the file to your desktop.
Close any programs you may have running - especially your web browser.
Now go to Start > Settings > Control Panel, double-click on

Add/Remove Programs

and remove all older versions of Java.
Check (highlight) any item with Java Runtime Environment (JRE or J2SE or Java™ 6) in the name.
Click the Remove or Change/Remove button.
Repeat as many times as necessary to remove each Java version.
Reboot your computer once all Java components are removed.
Then from your desktop double-click on jre-6u17-windows-i586-p.exe to install the newest version.
After the install is complete, go into the Control Panel (using Classic View) and double-click the Java Icon. (looks like a coffee cup)

On the General tab, under Temporary Internet Files, click the Settings button.
Next, click on the Delete Files button
There are two options in the window to clear the cache - Leave BOTH CheckedApplications and AppletsTrace and Log Files

Click OK on Delete Temporary Files Window

Note: This deletes ALL the Downloaded Applications and Applets from the CACHE.
Click OK to leave the Temporary Files Window
Click OK to leave the Java Control Panel.

NEXT
Follow these steps to uninstall Combofix
Click START then RUN
Now type Combofix /uninstall in the runbox and click OK. Note the space between the ..X and the /U, it needs to be there.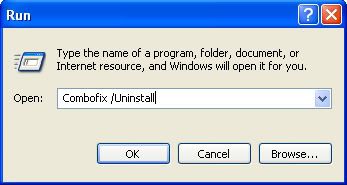 NEXT
Now to remove the rest of the tools that we have used in fixing your machine:
Make sure you have an Internet Connection.
Download

OTC

to your desktop and run it
A list of tool components used in the Cleanup of malware will be downloaded.
If your Firewall or Real Time protection attempts to block OTC to reach the Internet, please allow the application to do so.
Click Yes to begin the Cleanup process and remove these components, including this application.
You will be asked to reboot the machine to finish the Cleanup process. If you are asked to reboot the machine choose Yes.
If there are any remaining logs/tools on your desktop > right click and delete them.
NEXT
Below I have included a number of recommendations for how to protect your computer against malware infections.
It is good security practice to change your passwords to all your online accounts on a fairly regular basis, this is especially true after an infection. Refer to this Microsoft article
Strong passwords: How to create and use them
Then consider a password keeper, to keep all your passwords safe.

Keep Windows updated by regularly checking their website at :
http://windowsupdate.microsoft.com/
This will ensure your computer has always the latest security updates available installed on your computer.



SpywareBlaster

protects against bad ActiveX, it immunizes your PC against them.



SpywareGuard

offers realtime protection from spyware installation attempts. Make sure you are only running one real-time anti-spyware protection program ( eg : TeaTimer, Windows Defender ) or there will be a conflict.



Make Internet Explorer more secure




Click Start > Run
Type Inetcpl.cpl & click OK
Click on the Security tab
Click Reset all zones to default level
Make sure the Internet Zone is selected & Click Custom level
In the ActiveX section, set the first two options ("Download signed and unsigned ActiveX controls) to "Prompt", and ("Initialize and Script ActiveX controls not marked as safe") to "Disable".
Next Click OK, then Apply button and then OK to exit the Internet Properties page.

ATF Cleaner - Cleans temporary files from IE and Windows, empties the recycle bin and more. Great tool to help speed up your computer and knock out those nasties that like to reside in the temp folders.



MVPS Hosts file

replaces your current HOSTS file with one containing well known ad sites and other bad sites. Basically, this prevents your computer from connecting to those sites by redirecting them to 127.0.0.1 which is your local computer, meaning it will be difficult to infect yourself in the future.

WOT, Web of Trust, warns you about risky websites that try to scam visitors, deliver malware or send spam. Protect your computer against online threats by using WOT as your front-line layer of protection when browsing or searching in unfamiliar territory. WOT's color-coded icons show you ratings for 21 million websites, helping you avoid the dangerous sites:

Green

to go

Yellow

for caution

Red

to stop

WOT has an addon available for both Firefox, IE and chrome.


Please consider using an alternate browser. Mozilla's Firefox browser is fantastic; it is much more
secure than Internet Explorer, immune to almost all known browser hijackers, and also has the best built-in pop up
blocker (as an added benefit!) that I have ever seen. If you are interested, Firefox may be downloaded from


Here




If you choose to use Firefox, I highly recommend this add-on to keep your PC even more secure.


NoScript - for blocking ads and other potential website attacks

Keep a backup of your important files - Now, more than ever, it's especially important to protect your digital files and memories. This article is full of good information on alternatives for home backup solutions.


ERUNT

(Emergency Recovery Utility NT) allows you to keep a complete backup of your registry and restore it when needed. The standard registry backup options that come with Windows back up most of the registry but not all of it. ERUNT however creates a complete backup set, including the Security hive and user related sections. ERUNT is easy to use and since it creates a full backup, there are no options or choices other than to select the location of the backup files. The backup set includes a small executable that will launch the registry restore if needed.

In light of your recent issue, I'm sure you'd like to avoid any future infections. Please take a look at these well written articles:
Think Prevention.
PC Safety and Security--What Do I Need?.
**Be very wary with any security software that is advertised in popups or in other ways. They are not only usually of no use, but often have malware in them.
Thank you for your patience, and performing all of the procedures requested.
Please respond one last time so we can consider the thread resolved and close it, thank-you.
Microsoft MVP 2010, 2011, 2012, 2013, 2014, 2015
---
Posted 22 November 2009 - 09:08 PM
Hi CatByte, Problem fixed. Thanks for your help!

---
Posted 22 November 2009 - 09:31 PM
you are more than welcome stay safe

~CB
Microsoft MVP 2010, 2011, 2012, 2013, 2014, 2015
---
Posted 25 November 2009 - 04:45 PM
Since this issue appears to be resolved ... this Topic has been closed. Glad we could be of assistance. If you're the topic starter, and need this topic reopened, please contact a staff member with the address of the thread. Everyone else please begin a New Topic.

Microsoft MVP 2010, 2011, 2012, 2013, 2014, 2015
---
---
0 user(s) are reading this topic
0 members, 0 guests, 0 anonymous users