Hi,
The Java Addon in IE may be disabled.
Go to Tools > Internet Options > Advanced tab. Click Reset then OK and exit IE.
Re-open IE and ensure the Java add-ons are enabled.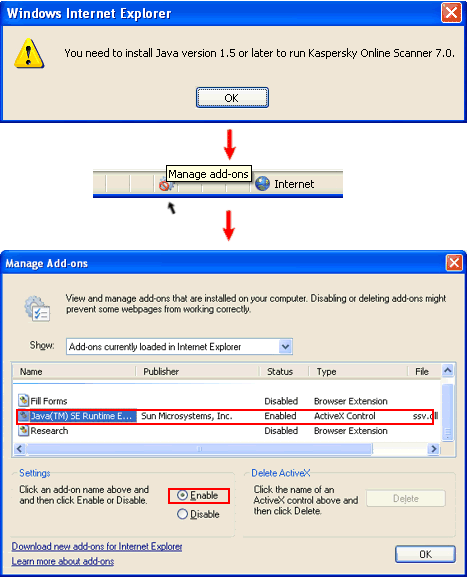 If Kaspersky still will not run, please try the following scanner:
Go
here
to run an online scanner from ESET.
Note: You will need to use Internet explorer for this scan
Turn off the real time scanner of any existing antivirus program while performing the online scan
Tick the box next to YES, I accept the Terms of Use.
Click Start
When asked, allow the activeX control to install
Click Start
Make sure that the option Remove found threats is unticked and the Scan Archives option is ticked.
Click on Advanced Settings, ensure the options Scan for potentially unwanted applications, Scan for potentially unsafe applications, and Enable Anti-Stealth Technology are ticked.
Click Scan
Wait for the scan to finish
Use notepad to open the logfile located at C:\Program Files\Eset\Eset Online Scanner\log.txt
Copy and paste that log as a reply to this topic and also let me know how things are now.